US seizes music sharing website "Sharebeast" RIP
By Christopher Rice
The people will not stand up and protect their leaders. Learn from the past and don't repeat it.
Underground America Inc. (1.0)
Raise the Fist
MyRedbook.com
SilkRoad
Rentboy.com
Sharebeast
AlbumJams.com
RapidShare.com
MegaUpload.com
Grooveshark
Rest In Peace.
The US Department of Justice has seized control of Sharebeast, the popular music-file-sharing website.
Sharebeast.com was the largest illegal file-sharing site for music operating within the US,
according to the RIAA
.
Like the act of putting a rotting corpse on display to warn other would-be pirates, Sharebeast.com now displays the familiar banner of the FBI on its site:
Screenshot
RIAA chairwoman and CEO Cary Sherman called it a huge win for the music industry.
"Sharebeast operated with flagrant disregard for the rights of artists and labels while undermining the legal marketplace,"
she said
in a statement.
A related site, albumjams.com, was also taken down.
In a recent high-profile incident, Sharebeast was
hosting
a leak of Kanye West's upcoming album "SWISH," according to Ars Technica. But the offerings on the site were sprawling, from music to soccer to TV shows.
"Millions of users accessed songs from Sharebeast each month without one penny of compensation going to countless artists, songwriters, labels and others who created the music,"
Sherman said
.
This takedown is perhaps the most significant action against file-sharing by the US
since Megaupload was shut down in 2012
. Most of the large file-sharing sites, however, are not based in the US.
RapidShare, based in Switzerland, was
voluntarily shuttered earlier this year
.
Other types of illegal music sites have also felt the heat of law enforcement.
Grooveshark, founded in 2006, quickly gained a following because of its on-demand catalog that allowed you to stream songs a la carte. This was long before Spotify arrived on the scene.
But many of the songs uploaded to Grooveshark were copyrighted songs — and
Grooveshark's founders reportedly instructed employees to upload popular songs
. Legal pressure eventually led Grooveshark to go dark on April 30. One of its cofounders was later
found dead in his home
.
Of course the most famous file-sharing site, The Pirate Bay, is still engaged in a game of whack-a-mole with European authorities.
The site unveiled a defiant logo in May that sent the clear message that even if one domain is shut down new domains will spring up in its place.
The Pirate Bay's cofounders, however, have faced legal battles, including imprisonment in
Sweden
and
Denmark
.
The sports streaming website
ATDHE.net
also had its domain seized by ICE Homeland Security Investigations.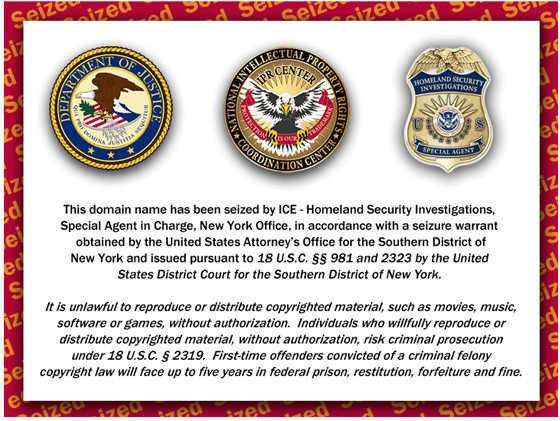 The term "ATDHE" was trending on Twitter as users tweeted their disappointment and concern over discovering the website was no longer up and running. "scary stuff when govnmnt [sic] can just take your domain," tweeted Jason Calacanis.

One of the site owners told TorrentFreak that his site was shut down without any notice or warning.

In addition to the domain name seizures, HSI targeted the site's PayPal accounts said to contain more than $90,000.

The effort comes as Congress considers the Combatting Online Infringement and Counterfeits Act (COICA). Critics, including Sen. Ron Wyden (D-Ore.) say it is too heavy-handed. He has vowed to put a formal hold on the bill.

Authorities in the United States are continuing with their effort to seize website domains.

U.S. Immigration and Customs Enforcement's Homeland Security Investigations is the driving force behind Operation in Our Sites, an initiative that has seen dozens of domain names seized by the U.S. Government since 2010.
Among the websites shut down was one very familiar to the UFC. Last August, the UFC succeeded in obtaining a temporary restraining order to prevent the website HQ-Streams.com, from streaming a live webcast of UFC 118, which was held in Boston.
The UFC obtained a restraining order in the U.S. District Court of Nevada against the website allegedly owned by Johnny Tike. Prior to being seized, the HQ-Streams.com website boasted that it provided regular MMA and pro wrestling live event streams to its patrons. In stark contrast, now visitors to the website are greeted with the message "This domain name has been seized by ICE -- Homeland Security Investigations, Special Agent in Charge, New York Office, in accordance with a seizure warrant obtained by the United States Attorney's Office for the Southern District of New York."
Other websites seized include:
"Pandora" (pandora3uym4z42b.onion), "Blue Sky" (blueskyplzv4fsti.onion), "Hydra" (hydrampvvnunildl.onion) and "Cloud Nine" (xvqrvtnn4pbcnxwt.onion). All were dark markets similar to Silk Road 2.0 offering an extensive range of illegal goods and services for sale, including drugs, stolen credit card data, counterfeit currency and fake identity documents like passports.
"Executive Outcomes" (http://iczyaan7hzkyjown.onion) specialized in exotic firearms trafficking. It used "secure drop ship locations" throughout the world so that "anonymity [was] ensured" throughout the shipping process. The sellers also ensured that all serial numbers from the weapons it sold were "remove[d] . . . and refill[ed] with metal."
"Fake Real Plastic" (http://igvmwp3544wpnd6u.onion) sold counterfeit credit cards, encoded with "stolen credit card data" and "printed to look just like real VISA and Mastercards." The cards were "[g]uaranteed to have at least $2,500 left on [the] credit card limit" and could be embossed with "any name you want on the card."
"Fake ID" (http://23swqgocas65z7xz.onion) offered fake passports from a number of countries. It advertised "high quality" passports that included "all security features" of original documents, and offered the ability to "affix almost all kind of stamps into the passports."
"Fast Cash!" (http://5oulvdsnka55buw6.onion) and "Super Notes Counter" (http://67yjqewxrd2ewbtp.onion) offered to sell counterfeit Euros and US dollars in exchange for Bitcoin.
Not surprisingly, the investigation remains ongoing, as law enforcement authorities wait for Silk Road 3.0 – or some variant – to quickly emerge.
This blog has been shifted!
(Due to Censorship) Blog has been shifted to:
http://www.copsrcorrupt.com/
Articles and videos from now on will be posted at:
Underground America Inc.
Follow on
YouTube
and Twitter
NEW!! Underground Forum Post anything!!
PLEASE EXCUSE OUR DUST -C.RICE