Activists, Families Protest Against Police-Involved Deaths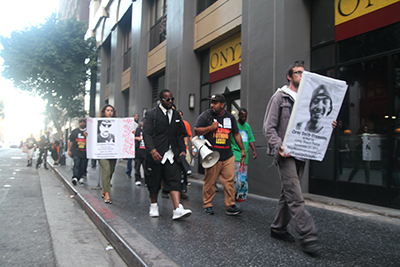 Activists and family members of those killed by police recited names and talked about their loved ones at a rally Thursday in Times Square, the start of three days of protests and marches speaking out against violence at the hands of law enforcement.
"We need to put an end to police brutality and police murder," said Nicholas Heyward Sr., whose 13-year-old son, Nicholas Heyward Jr., was killed by a police officer in 1994 while the boy was playing with a toy gun at a Brooklyn housing project.
He told the small crowd, "We are talking about innocent lives that are being taken constantly and they never, never are being held accountable for the crimes they are committing."
While Thursday's protest and other events been in the works for some time, they're coinciding with a tragic event — the killing of a New York Police Department officer, Randolph Holder, in the line of duty on Tuesday night.
Holder, a decorated five-year veteran of the department, was shot in the head after a chase. A 30-year-old man with a history of arrests has been charged with murder.
Playwright and activist
Eve Ensler
, who spoke at the rally, told The Associated Press afterward that the officer's death was terrible. But "that murder does not discount the hundreds of deaths that we are seeing and continuing to see and the lack of any indictments and the lack of any justice and that's why I'm here today," she said.
Those who spoke at the rally included family members of people killed in interactions with police all over the country, both recent deaths like that of Akai Gurley in November 2014 and others going back years, like Heyward Jr's. The RiseUpOctober events were the brainchild of activist Carl Dix and academic
Cornel West
, and are scheduled to culminate on Saturday with a march in Manhattan.
Recent deaths at police hands have spurred protests nationwide over police use of force.
"We are talking about something that is widespread and intense when we talk about losing their lives at the hands of law enforcement," Dix said Thursday.
Organizers assembled at the Los Angeles Police Department's headquarters at 100 West First St. around 1:30 p.m. The march began around 3:30 p.m., and it ended at 6 p.m. at 6th and San Pedro streets, "to remember and honor brother Africa and all the stolen lives."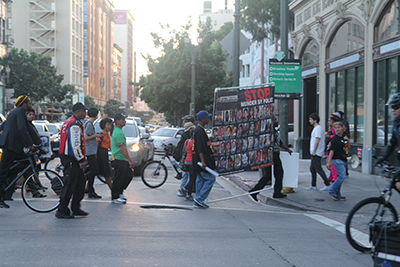 Charly "Africa" Leundeu Keunang, an unarmed homeless man, was fatally shot near the corner of 6th and San Pedro streets during a struggle with LAPD officers on Skid Row in March 2015.
There were rolling street closures between First St. and 7th St. and between San Pedro and Spring streets. Before the permitted march, police advised drivers to avoid the area, so their travel would not be delayed.
There was a heavy police presence. LAPD officers were on the scene in patrol cars and on bicycles while helicopters circled the area overhead. Officers on scene described the protest as "peaceful." No arrests were made.
The protest was organized by the
Stop Mass Incarceration Network
as part of the 20th annual "National Day of Protest to Stop Police Brutality, Repression and the Criminalization of a Generation." Rallies also took place in New York City and other cities across the country. The Oct. 22 demonstration kicked off three days of action to "expose the epidemic of police brutality" called "
Rise Up October
," protesters said.