Kendrick Johnson lawsuit: Justice Department wants attorneys to stop collecting evidence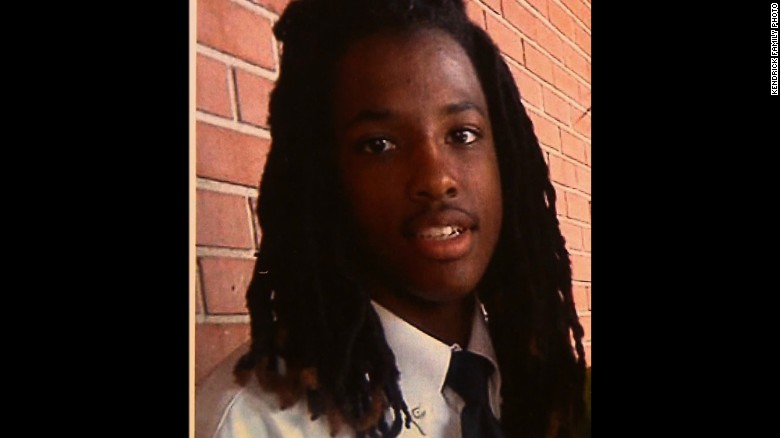 (
CNN
)
Federal marshals seized emails from a Georgia sheriff's office this week, more than two years after investigators there concluded there was no foul play when a 17-year-old was found dead inside a rolled-up gym mat.
U.S. Marshals came to Lowndes County IT offices Tuesday and Wednesday with a warrant and copied sheriff's office emails related to the investigation into Kendrick Johnson's death, an attorney representing the sheriff's office told CNN.
by
CNN Wires
It's been almost three years since Kendrick Johnson was found dead in a rolled up gym mat at his high school. The Georgia teen's death has attracted headlines and scrutiny ever since officials ruled his death accidental. His parents, never believing this finding, filed a $100 million civil suit which this week took yet another turn. The Department of Justice has asked a judge in Lowndes County to block the attorneys from collecting evidence in that civil suit.
According to court documents, the Justice Department is asking the judge to 'temporarily stay discovery in the case for 180 days' pending the federal criminal investigation. If granted, the stay would prevent attorneys for Johnsons' parents, Kenneth and Jacquelyn Johnson, and attorneys representing the dozens of defendants named in the case from deposing witnesses and collecting other evidence for that six-month period.
The Justice Department submitted two motions to the court on Monday; a Motion to Intervene and Motion to Stay. It's not clear what the Justice Department's argument entails because copies of each 14-page motion provided by the court to CNN have been heavily redacted. In some cases, entire pages have been blacked out.
Assistant U.S. Attorney J. Thomas Clarkson included five exhibits to support the requests, including a six-page affidavit from Nelson Rhone, a criminal investigator who works in the office of U.S. Attorney for the District of Columbia Deborah Sines. Sines joined the investigation in 2014. Nearly all of the copy of Rhone's affidavit that was provided to CNN has been redacted.
In the filings, Clarkson noted that Chevene King, the Johnsons' attorney, issued a notice to depose FBI Special Agent Rick Bell. Bell is the father of Brian Bell and Branden Bell, former schoolmates of Johnson. All three Bell's are named as defendants in the civil case. According to the Bell family's attorney, Brice Ladson, the three received letters in 2014 indicating they are also the targets of the Justice Department's federal criminal investigation.
Clarkson determined in his request to intervene in this case, "it became necessary for the United States to intervene."
In the lead-up to the Justice Department's filing, the parties argued over when and how to conduct depositions and none have been conducted.
On October 16, Lowndes County Court issued a subpoena on behalf of the Bell family's attorney to the Atlanta offices of Twitter for information that would reveal names and locations of account holders connected to 23 Twitter handles.
The subpoena also requested all tweets dating back to January 11, 2013 — the day Johnson's body was found.
Family's allegations
In the January 2015 civil lawsuit the Johnsons claimed Kendrick Johnson was "induced" by a female student to go to the old gym at Lowndes High School on January 10, 2013. The female student was not named in the suit.
King claim the two Bell brothers "violently assaulted" Johnson at their father's command and that Johnson "suffered a fatal injury which led to his death." Initially, the suit also named more than 30 other defendants, mostly members of local law enforcement, plus the City of Valdosta.
"This is yet another frivolous lawsuit filed by Chevene King in connection with the death of Kendrick Johnson. It contains allegations against (my clients) that he and his clients know are untrue and defamatory," Ladson, the Bell family attorney, wrote in a statement to CNN soon after the initial filing.
Last year Karen Bell, the boy's mother, defended her sons in the local paper.
Her sons had nothing to do with Johnson's death, she told the Valdosta Daily Times. The paper also quoted Lt. Styde Johns from the Lowndes County Sheriff's office as saying "class records show that the oldest brother was out of town, and the younger brother was at another part of the school when Kendrick entered the gym."
In an amendment to the lawsuit in August, King accused Sheriff Chris Prine and Lowndes County Schools Superintendent Wes Taylor of allowing at least one unnamed person into the "old gym" at Lowndes High School to place the teen's body inside a rolled gym mat. The amended suit claims Kendrick Johnson's body was placed there "for the purposes of manufacturing alleged evidence of an accidental death."
"The Johnsons and their lawyer have been repeatedly asked to identify witnesses or other evidence that support their claims. In over two and one-half years, the Johnsons and their lawyer have never identified a single witness or a shred of evidence to support any of what they say or claim," attorney Jim Elliott, who represents the Lowndes County Sheriff's Office, told CNN in a written statement after the suit was amended.
"No witness has ever been identified, nor any evidence offered to support such new claims. It is irresponsible, and just plain wrong," attorney Warren Turner said on behalf of Lowndes County Schools, also after the case was amended in August.
Dropped from the lawsuit
Just days ago, Lowndes County Judge J. Richard Porter dismissed from the suit nine current and former employees of the Georgia Bureau of Investigation who were named as defendants in the case. According to their attorneys, the nine were not properly notified by the Johnsons' attorneys — the judge agreed.
One of the GBI employees dropped from the suit is Maryanne Gaffney-Kraft. She's the state medical examiner who determined that Kendrick Johnson died as the result of "positional asphyxia." Her conclusion corresponded with the findings of the Lowndes County Sheriff's office that Johnson got stuck after he climbed into a rolled gym mat to reach for a shoe on January 10, 2013.
Johnson's classmates discovered his body the following day.
Johnson's parents never believed that account. In June 2013, Johnson's body was exhumed. Johnson's parents hired Florida-based forensic pathologist Dr. William Anderson, who found evidence of "unexplained, apparent non-accidental blunt force trauma" to Johnson's neck. Anderson determined Johnson's death was the result of a homicide.
U.S. Attorney for the Middle District of Georgia Michael Moore launched the federal investigation on October 31, 2013.
But little has come out publicly about the status of that probe.
Porter has not yet issued an order in response to the Justice Department's requests.
By Victor Blackwell
VALDOSTA, Ga. (
AP
) — A judge rejected the Justice Department's request to temporarily halt evidence-gathering in a civil lawsuit by the parents of a Georgia teenager found dead at school in a rolled up gym mat.
Classmates found the body of 16-year-old Kendrick Johnson of Valdosta inside an upright mat propped against the gym wall at Lowndes High School in January 2013. Sheriff's investigators concluded the teenager died in a freak accident. His parents have filed a $100 million wrongful death lawsuit accusing two brothers of killing their son and authorities of covering up the crime.
Federal prosecutors launched an investigation two years ago, but announced no findings. Justice Department attorney James Bennett told a Superior Court judge Wednesday there is still "an active grand jury investigation" into Johnson's death. He asked for a delay of six months in the civil proceedings to prevent attorneys from questioning witnesses who are part of the federal investigation, WSB-TV reported (http://bit.ly/1PpzWIG).
"The release of evidence from the criminal investigation at this juncture will seriously jeopardize the federal investigation," Bennett said.
Judge J. Richard Porter, who is presiding over the civil case, refused to put the lawsuit on hold. He said it would be improper, considering that no criminal charges have been filed, The Valdosta Daily Times reported (http://bit.ly/1OqLoFp).
"This investigation has been going on for two years, and there is no indictment," the judge said.
Attorneys in the civil lawsuits have already questioned Johnson's parents and other witnesses under oath, despite the Justice Department's pending request to halt those interviews.
This blog has been shifted!
(Due to Censorship) Blog has been shifted to:
http://www.copsrcorrupt.com/
Articles and videos from now on will be posted at:
Underground America Inc.
Follow on
YouTube
and Twitter
NEW!! Underground Forum Post anything!!
PLEASE EXCUSE OUR DUST -C.RICE